Discover more from gotham girl
gotham girl is a reader-supported newsletter for inquisitive readers from bestselling author Alisa Kennedy Jones. "One of America's funniest, most singular voices on Substack" — The New York Times
Harriet the Spy is all of us. 😂
In which I plot against mad birds, tech bros, and tell a big, benevolent whopper...
Hello, Lovelies, How the hell are you?
It's been such an awful week. The world needs a gigantic Tardis from Dr. Who we can all climb into and hit the "go back" lever. Or maybe someone could invent thought-canceling headphones—like the noise-canceling ones, or better still, trauma-canceling ones? Wouldn't that be just the ticket? (You're welcome, Bose.)
I don't know about you, but Harriet the Spy was my favorite book growing up and so I love elaborate, near-accidental pranks, that spin themselves into bigger things for someone else's happiness. Like this story from Gabe Hudson chatting with Anne Kadet of Cafe Anne about a Mystery Steak House in New York, that's just so wonderful, I can't NOT share it with you. Here it is on Gabe's remarkable podcast:
I believe in the power of the benevolent betrayal to bring joy. Take this instance…
So there I was, sitting in an empty, darkened parking lot, ugly crying in my car, because I'd arrived too late to an author signing of my daughter's favorite book, which I'd gotten for her eighth birthday.
It was a special edition, clothbound, by this beloved writer, a seemingly dear, old, wizened grandmotherly type who, when I arrived, had been packing up to go and refused to sign her book despite my pleas that it was for my daughter's birthday and I'd only been late because my boss was a supreme douchebag and traffic was well… traffic.
Blubby Jeff or El Jefe, as he was known throughout the studio, was, in fact, the one person who had total power over our little family's destiny (besides my ex-husband), the one person who stood between me keeping both children, myself, Teodora, Skippy (our tortoise), and Sleeper (our 108-lb Labrador) from being hurled from our modest bungalow with its perfect, fairy-lit secret garden into the street and forced into yet another crappy apartment that would no longer allow animals or theatrics of any kind. And we were a performative bunch if I'm honest. But I just couldn't catch a break, not with El Jefe, who'd recently thrown a PowerPoint directly at my face (yay, Hollywood), and not with this crank of an author who refused to sign her own damn book for an eight-year-old who worshipped her.
So, I did it for her. I sat there in the dark, my heart in utter conflict with itself, and I wrote the kindest letter in that book from that author to my daughter. I wrote about how much she appreciated my kid reading her book, how much the author loved that my daughter loved her stories, and that she bet my kid was already growing up to be an amazing writer herself and I signed it, your friend, _______. At home, I wrapped it in special paper that I'd picked up from the Paper Source. And when she opened it on her birthday, my girl could not stop chirping how "_____ ______ actually wrote to ME!" All with the glee of a tiny melodious Goldfinch. It was everything to her.
Bag... cat. I still believe I did the right thing.
Operation Mockingbird Update!
A few weeks ago, I apprised you of our Mockingbird problem…
Two solutions came in from dear friends, both of which were genius. The first came from Sandra Ann Miller and that was to teach it a better song, expand the repertoire for sanity's sake, starting with... The Go-Go's—a personal 80s favorite. And what better song than…?
The second, more diabolical plot came from my friend, Meredith, who is an insanely intelligent operations specialist and it was this: birdseed strategically trailed from the nest of said endlessly offending mockingbird straight out to the Tesla of my nearest, most obnoxious Tech Bro neighbor, who would then be prompted to immediately eliminate the bird for fear of his precious bro-bag car being pecked at and/or shit on relentlessly day after day after day! Dual revenge! Is Meredith an evil genius or what? I LOVE her!
The kicker was how to plant the birdseed in such a way that I would not be recognized by a bevy of security cams. This is where my deep knowledge of Mary Poppins came in handy. I would dress up like one of our city's finest. No, not a cop. One of SF's thousands of unidentifiable, homeless bird ladies. The plan was set in motion. I ordered the birdseed in several varieties in case we had a gourmand on our hands. Then, I dug through my closet for the rattiest chore-core (housecleaning duds), and I aged them even more. The trick is in the shredding of the edges of everything and finding the appropriate hooding. I didn't want to wear a balaclava and be mistaken for an actual burglar when all I was doing was spreading mischievous birdseed.😂
I could just see the police blotter: "A small blonde assailant was picked up outside of a smash and grab near Louis Vuitton in Nob Hill, but all that was found on her person was a black balaclava and some artisanal birdseed."
Teodora wanted to take the bugger out with a Fentanyl-laced blow dart. I told her we were not contributing to the city's catastrophic drug trade. She argued, that it was far easier to get than blue poison dart frogs from South America. To which I replied, "Probably, but I know you have your special Santerían hex suppliers." Still, Teodora's aim is not all that. We were sticking with Meredith's plan.
Here's the thing though… by the time the birdseed actually arrived from Amazon, the Mockingbird had flown the coop. I don't know if it was the weather change, or if he sensed that we were up to something, but the bird is gone. We were so ready!
Anyway, let's distract ourselves with some doofuses, this week's a no-brainer.
---
Doofus(es) of the Week
Now, for our regularly scheduled programming!
Doofus #1: Somehow, we always KNEW. And how is it that these SNL sketches seem to write themselves? Yes, JT, who denied his then-girlfriend appropriate medical care for fear of his own reputation being sullied, and instead opted to strum guitar for her while she lay writhing on the bathroom floor is indeed a tiny dick in a box.
Doofus #2: Tech Bros trying to fake that they are poor to their much lower-paid employees. Apparently, bro-bag here won't be doing any Architectural Digest video walk-thru's anytime soon, lest he incur the wrath of the great unwashed. Putz.
Doofus #3: America's Sucky Cultural Imagination. Just to be clear, bigoted Republican ideology made the Lewiston Mass Shooter. Conservative ideologues, like David Brooks saying, "Trump isn't that bad," helped make him. Put that in your Meerschaum and smoke it!
A Positive Doofus Update: The doofuses at Scholastic backed down! Scholastic is reversing course, saying it will no longer segregate diverse stories for school book fairs THANKS TO weeks of mounting backlash from educators and authors. Huzzah, f*ckers!
OK, I'm not nearly out of doofuses, but it's Halloween and we need some marvelous…
---
That's Marvelous!
A new-ish segment luxuriating in the good things.
An epic Halloween rant that is absolutely 1000% true. Take note, helicopterents!
Ted Lasso Gets Barbied!
It was only a matter of time before the sunshine enema of a show Ted Lasso got the Matel treatment. Still, some notes: Ted's hair is wrong, he's not nearly dad-bod puffy enough, and he needs a panic attack setting. Keely is too put together, her face lacks its usual quirky joie de vivre-worry combo, and her hair needs more natural frizz. Rebecca, however, looks spot on! They even nailed her perfectly toned Pilates arms and her bag.
But hello??? WHERE is Roy Kent? Where is our angsty anti-hero with his ultra-shag swarthy chest and facial hair? Where is the pull string out the back that prompts him to bark various f**k phrases? And where is Trent Crim, formerly of The Independent, with his spectacular hair to rep the LGBTQ community? His pull string could trigger charming literary quips. Or Jamie Tart? He should have a 'bounce' setting, like Tigger from Winnie the Pooh. Have these people never designed a toy collection before? Do they not remember Superfriends? And, six would be a much better collection, but they really failed with Roy. He could have been the G.I. Joe of the lot.
Another marvelous thing…
Maggie Smith is the refreshing face of Loewe's newest campaign. The grand dame completely broke the internet with her makeup-free visage, and can we please see more women from all generations in the glossies, please?
A final marvel… honorable mention!
Critical support for the beautiful javelina and their righteous war on worthless golf courses! I'm sorry but golf is boring and a waste of water, played by far too many bone-saw-wielding Saudis. Huzzah, to these beauties! They'd make Wilbur proud!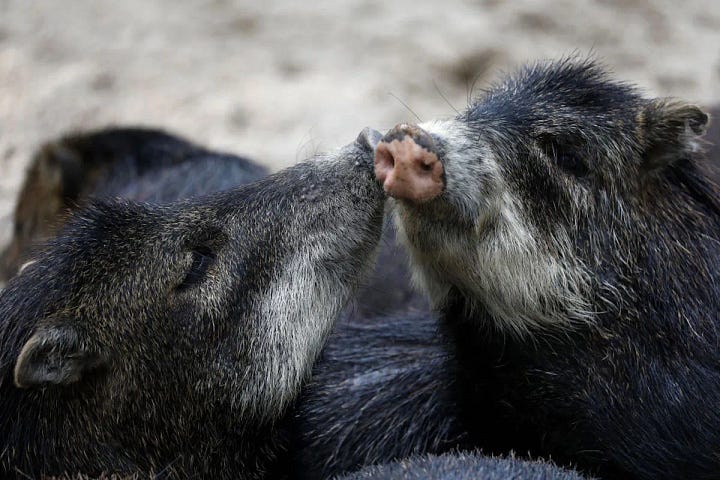 ---
Meanwhile, given it's Halloween, I feel obligated to share this last hilarity with you before we part. It's just too perfect…
Don't you just love the spidery leg movements? Stay safe, Lovelies, and know that I'm thinking of you always – xoxo, gotham girl
---
---
gotham girl is a reader-supported community. To receive bonus content, access virtual events, discounts on merch, and support my work, please consider joining today.
*As an Amazon Associate, gotham girl may earn from qualifying purchases, at no cost to you.